Enjoy body and mind relaxation in
Kyoto Plaza Hotel
Kyoto Plaza Hotel is strategically located close to Kyoto Station.
It takes approximately 9 minutes to walk from JR Kyoto Station
Hachijou West Gate and 3 minutes from Kintentsu Toji Station.
At Kyoto Plaza Hotel, we provide the most gracious hospitality to our
guests. Stay with us when you visit Kyoto!
ANNEXE BUILDING – ROOM
Double Room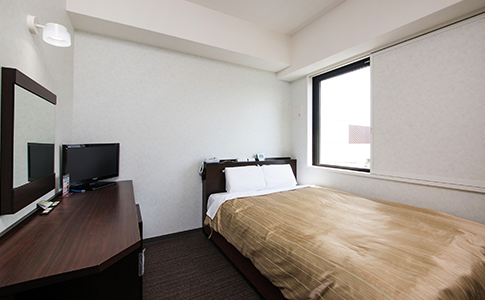 | | |
| --- | --- |
| Room Size | 14㎡ |
| No. of Rooms | 91 |
| Bed Size | 140cm (W) x 200cm (L) |
Twin Room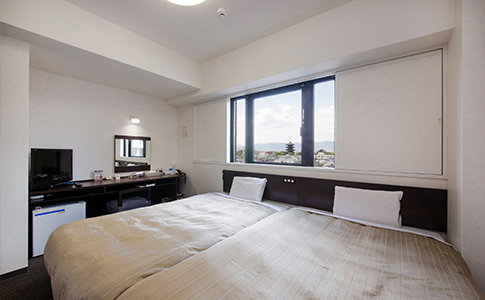 | | |
| --- | --- |
| Room Size | 18㎡ |
| No. of Rooms | 9 |
| Bed Size | 123cm (W) x 195cm (L) x 2 Beds |
MAIN BUILDING – ROOM
Single Room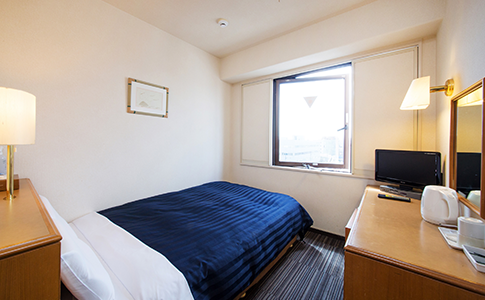 | | |
| --- | --- |
| Room Size | 12㎡ |
| No. of Rooms | 102 |
| Bed Size | 123cm (W) x 200cm (L) |
Twin Room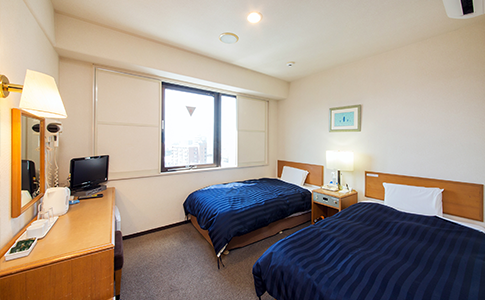 | | |
| --- | --- |
| Room Size | 17㎡ |
| No. of Rooms | 2 |
| Bed Size | 103cm (W) x 195cm (L) x 2 Beds |
Accommodation
| | |
| --- | --- |
| Check-in Time | 3pm |
| Check-out Time | 10am |
Amenities
TV set (complimentary regular TV channels), refrigerator, room slippers, bidet toilet, therapeutic pillows, hair dryer, electronic kettle, toothbrush, conditioning shampoo, body soap, bath towels, face towels, yukata (bathrobes) and cups.
Razor comb is available at the reception.
Others
We also provide the following items at the reception:
LAN cable, humidifier, iron, trouser press, desk lamp, electronic thermometer, spoon, fork, fruit knife, blanket, umbrella, nail clipper and pillows.
Some items may be unavailable due to high demand or other circumstances.
---
SERVICE
Complimentary breakfast service
Complimentary breakfast is provided for all guests everyday from 6:30am to 9:30am. The breakfast is served in Obanzai style, which is the traditional Japanese cuisine native to Kyoto. It will spoil diners with a wide variety of Japanese food and beverages. In addition, there is an international section which serves bread, cereal, milk and salad.
Start your morning off with a good meal at our breakfast corner.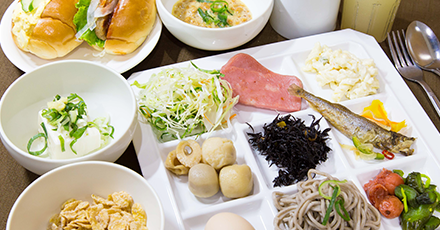 Free Luggage Storage & Courier Service
We understand how inconvenient it can be to carry bags while moving around before check-in and after check-out. We welcome our guests to leave their bags with us so that they get to enjoy the day without carrying anything. Guests can collect their bags anytime they want as our front desk operates 24 hours.
We also accept parcel on behalf of guests (parcel payment must be made in advance). Parcel delivery service is available at front desk too.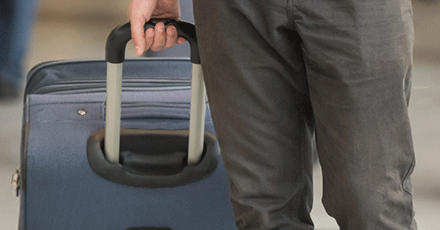 ---
Heian-jingu Shrine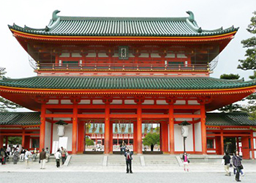 Heian-jingu Shrine was built in 1895 to celebrate the 1,100th anniversary of moving Japan's capital to Kyoto. It represents the flamboyant atmosphere of the era with its towering bright red gate and main building.
The garden of Heian-jingu Shrine, Shin'en, is a huge stroll garden, famous for its beautiful weeping cherry trees.
Nijo Castle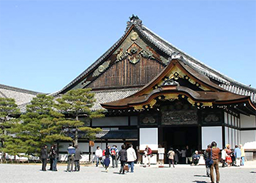 Shogun Tokugawa Ieyasu built this castle as his accommodation for his visit to Kyoto. The buildings, sculptures and paintings show the extravagance of the Momoyama era. Nijo Castle is listed in the National Treasures and Important Cultural Properties. It is also recognized as World Heritage Site by UNESCO. The features of the garden in the castle change every season.
To-ji Temple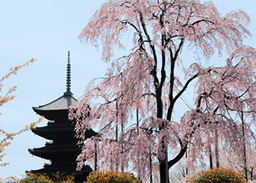 To-ji Temple is a Japanese Buddhist temple founded by Kobo Daishi. It is listed as one of the World Heritage Sites by UNESCO. Its five-story pagoda which is a symbol of Kyoto, is designated as National Treasures and Important Cultural Properties. Kobo-san Flea Market is held on the 21st of every month. The temple is crowded with vendors selling clothes, sculptures, kimono, antiques, pottery, toys, food and plants.
Gion Matsuri Festival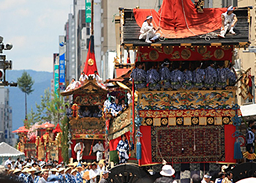 Gion Festival takes place in Kyoto every summer. It is one of the three major festivals in Japan. The festival is held for the entire month of July and is crowned by a parade on July 17 and 24.
---
LOCATION
Address
28, Nishikujo, Zao-cho, Minami-ku, Kyoto, 601-8414, Japan
TEL: +81-75-691-0100 / FAX: +81-75-691-8750
EMAIL: reservation@kyoto-plazahotel.co.jp
Google Map
Transportation
From Kansai International Airport
Take Airport Shuttle Bus – 90 minutes
Take Limited Express Train, Haruka – 75 minutes
From Osaka International Airport (Itami Airport)
Take Airport Shuttle Bus – 55 minutes
From Kyoto Station
Walk – 8 minutes
Download Kyoto map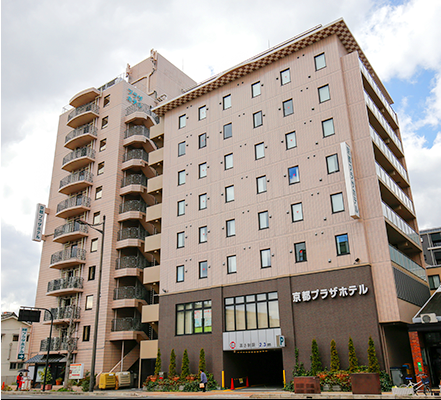 Walk From JR Kyoto Station to Kyoto Plaza Hotel
Take the JR Kyoto Station Hachijou West Gate exit, walk down the stairs on the right side and go straight.
Kyoto Station should be behind you now, while Kintetsu Miyakomichi Mall is on your right side.
At Hachijo Aburanokoji Dori intersection, cross left and then right to the opposite street.
Continue to walk to the south while Aeon Mall is on your left side, until you see a shrine on your right side.
Walk straight and cross at a pedestrian crossing.
The Hotel is on your right side after the post office.
---
Sister Hotel
Hotel Aston Plaza Kansai Airport
Hotel Aston Plaza Kansai Airport opened its doors in April 2017.
Free breakfast and onsite public bath are provided. Don't worry
if you will be visiting Kansai Airport as the shuttle bus operates daily.
Free parking is also available so it is very convenient for leisure and
business users.
We are dedicated to provide the most comfortable stay for our guests.
Find Out More